NPQ Information
The DfE have now announced that they will provide full scholarship funding* for any teacher undertaking one of the new, reformed NPQs. This means that you and your school could now be eligible for full funding.
*For full information about the eligibility of scholarship funding, please check this Department for Education web page.
What do do next ...
When registering with DfE please ensure that UCL is selected as the 'Provider'. This will ensure that applications are processed and Balcarras will then be informed of each application.
When applying you will need your TRN, School URN and the name(s) you used when you registered with the TRA.
NPQ for Senior Leaders (NPQSL)
For school leaders who are, or are aspiring to be, a Senior Leader with cross school responsibilities.
NPQ for Headteachers (NPQH)
For school leaders who are, or are aspiring to be, a Headteacher or Head of School with responsibility for leading a school. DfE is also introducing a targeted support package for teachers new to the role of Headship.
NPQ for Executive Leaders (NPQEL)
For school leaders who are, or are aspiring to be, an Executive Headteacher or have a school trust CEO role with responsibility for leading several schools
NPQ for Leading Behaviour & Culture (NPQLBC)
For teachers who have, or are aspiring to have, responsibilities for leading behaviour and/or supporting pupil wellbeing in their school
NPQ for Leading Teaching Development (NPQLTD)
For teachers who have, or are aspiring to have, responsibilities for leading the development of other teachers in their school
NPQ for Leading Teaching (& Curriculum) (NPQLT)
For teachers who have, or are aspiring to have, responsibilities for leading teaching in a subject, year group, key stage or phase
---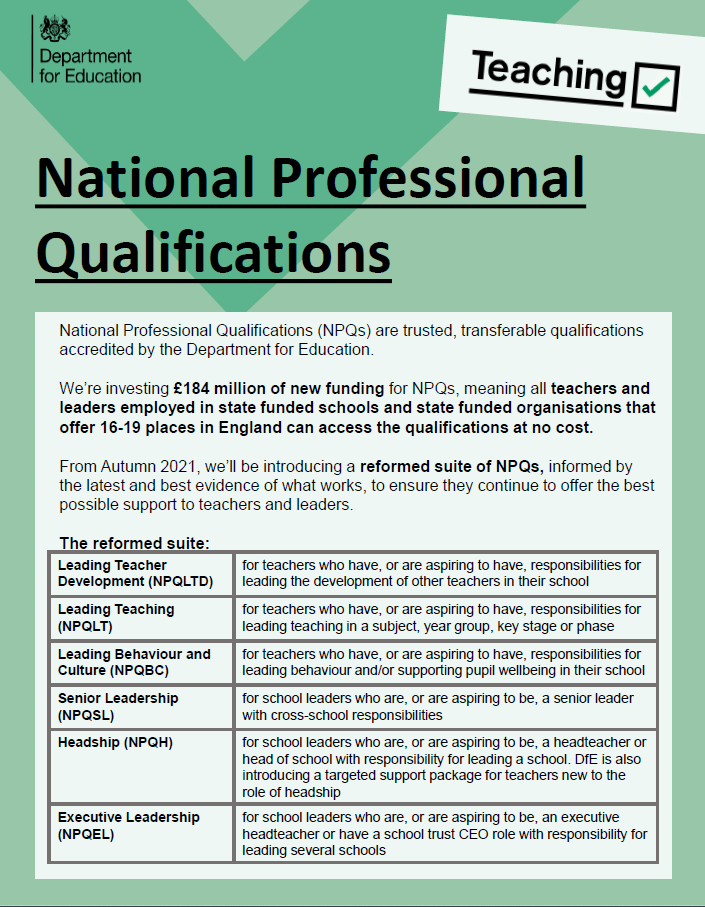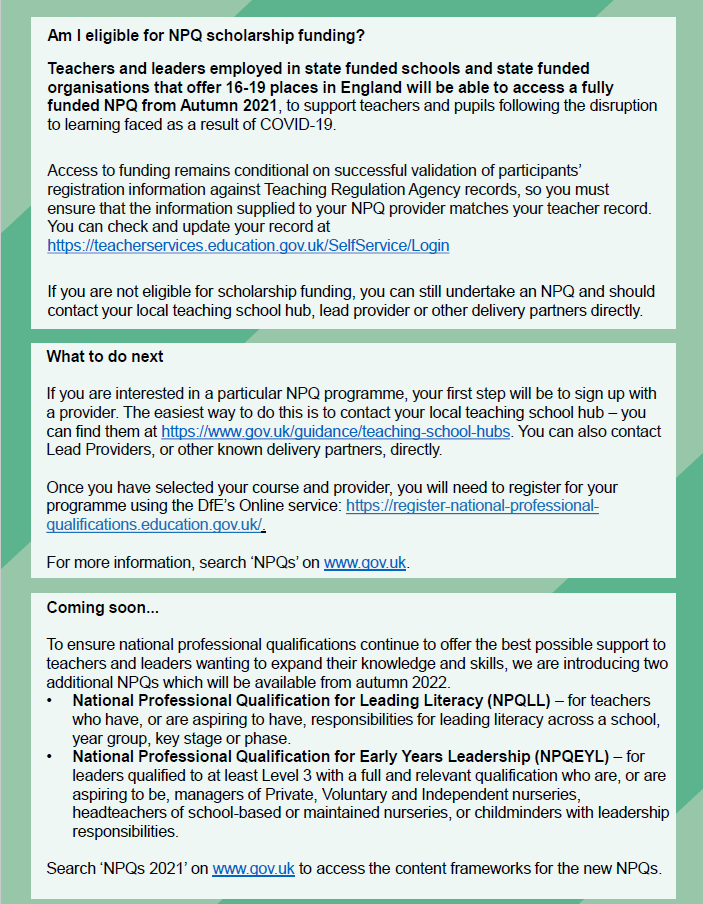 NPQ LAUNCH RECORDING